How To Get To Alor
Being located in the Far East of Indonesia, common people are tend to skip this destination as they are hesitate to travel this far. Although it requires an extra effort to reach, Alor offers exceptional diving experience, renowned as one of the most beautiful dive sites with pristine coral reefs and abundant marine life. By having these array of choices, you also get the experience to enjoy private dive sites, seeing no other people aside from your buddies and your dive guide.
Indeed, we are tucked away in the Far South East of Indonesia, yet getting to Alor is not that difficult. You can fly to Alor from Jakarta, Surabaya, or Bali with Kupang as a transit point. Mali Airport (ARD) is the name of domestic airport in Alor Island, ensure that you choose the right one, as there is another Alor in Malaysia (Alor Setar), not this one.
As per today the Airlines schedule changed, If you fly from outside of Indonesia we have two alternatives route:
Via Jakarta.

There are daily flight from Jakarta to Kupang, we will suggest that you to take Batik Air flight that leave Jakarta around 02:35 AM and will arrive in Kupang around 06:35 AM. From this you can continue to take first flight from Kupang to Alor with Wings Air (same company so you wont need to transfer your baggage manually) and the flight is leaving Kupang at 8.40 AM and will arrive at 09:20 AM in Alor. From Kupang you actually have two airlines that fly to Alor, the other is Transnusa that leaves Kupang at 11.35 AM and will arrive in Alor at 12:05 PM. Please make sure that you have enough baggage allowance when you bring your own gear, Batik Air provide 20 kg free baggage allowance and it's include for connecting with Wings Air if you buy it all together (Batik-Lion -Wings are same company)

Via Surabaya.

Daily flights from Surabaya to Kupang (transit), and connecting flight to Alor. Take the first morning flights from Surabaya (SBY), choose either Citilink at 06:10 AM or Lion Air at 06:55 AM, transit in Kupang (KOE) then continue with Wings Air at 12:15 PM to Alor (ARD). Both options will arrive at 13:15PM in Alor (ARD). If you take Lion-Wings your baggage will automatically transfer to Alor; but if you take Citilink-Lion you need, to self-collect and do another check-in as they are two different company.


Via Bali.

If you fly from Bali (DPS), you need to stay overnight in Kupang. Because there's no direct flight to Alor anymore, and the earliest flight from Bali (DPS) to Kupang (KOE) with Garuda Indonesia at 10:55 AM and with Lion Air at 11:05 AM. These flights would not catch the last flight from Kupang to Alor with Wings Air at 12:15 PM.
You can also find these possible alternative domestic routes: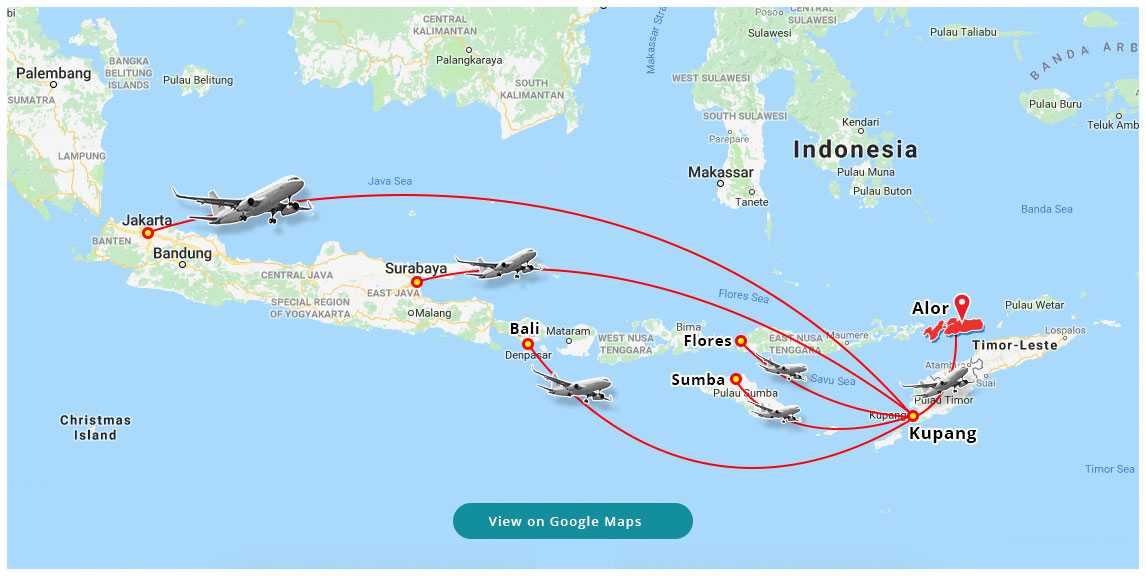 For those who fly to Indonesia from other countries (international flights), the best route would be via Singapore. It is relatively more cheaper and obviously more convenient compared to other airports hub in South-East Asia. Singapore also offers really good deal in-transit, more selection of flights, and excellent airport facilities.
Beside from direct booking through the official airlines website, you can also book the tickets on reputable third-party travel sites such as or others to get a good deal.
For those who little bit more adventurous, the East of Indonesia is famous for its stunning scenic routes throughout the archipelago, especially from Bali, Lombok, Sumbawa all the way to the province of East Nusa Tenggara. For this kind of long journey experience, there are boats and ferries available which can take you to Alor Island from Larantuka (Flores Island), Lewoleba (Lembata Island), and Kupang (the capital province of East Nusa Tenggara, located in Timor Island). Considering there are no daily schedules for these boats & ferries, you need to check the schedule with the locals as it can be changed due to weather conditions. For more details of these schedules, you can check on www.pelni.co.id
So… There are many alternatives available that you can choose to experience another hidden diving jewel in Indonesia. Someone said, if Raja Ampat is a Gold and Komodo is a Diamond, we can call Alor as Imperial Jade, Emerald, Ruby or even Sapphire, such an astonishing diving destination.